Price

RM4,395.00

Product SKU
EPIP-FVP YTAG
Brand
Epiphone
Availability
In Stock
Quantity
Description
Highlight
Solidbody Electric Guitar with Mahogany Body, Maple Top, Mahogany Neck, Ebony Fingerboard, and 2 Active Humbucking Pickups - Yellow Tiger Aged Gloss
Flying V Prophecy - Yellow Tiger Aged Gloss
Featuring Fishman Fluence Pickups With Custom Voicing!
The newly reimagined Epiphone Prophecy collection features iconic Inspired by Gibson™ body shapes with a modern twist for players seeking to break tradition and set new standards in speed, sound, and technique. Front-and-center is a pair of custom voiced Fishman Fluence® pickups that deliver three distinct tones - a warm "Patent Applied For" vintage humbucker™, hot modern humbucker, and a shimmering, optimized single-coil sound, all accessed by push/pull Volume and Tone pots. The Flying V™ Prophecy also includes Grover® locking Rotomatic® tuners, Epiphone's LockTone™ Tune-O-Matic™ bridge and tailpiece for added sustain, a Graph Tech® NuBone® nut that boosts harmonic content and increases tuning stability, custom binding, ebony fretboard, jumbo frets, and an asymmetrical SlimTaper™ neck for comfort and speed. Available in a AAA figured maple top in Yellow Tiger Aged Gloss or plain top in Black Aged Gloss.
---
Classic Retro-futuristic Design with Modern Enhancements
The Epiphone Flying V Prophecy boasts the same retro-futuristic design and radical angular styling as its predecessors, along with cutting-edge electronics and modern, ergonomic playability. This electric guitar is built around a resonant mahogany body that's capped by an attention-grabbing flame maple veneer. Fishman Fluence pickups outfit the Flying V Prophecy with an impressive array of tones, including vintage and modern humbucker voices, plus hum-free single-coil textures. And it plays like a dream, thanks to a mega-comfortable, asymmetrical SlimTaper-shaped mahogany neck, a shred-worthy 24-fret ebony fingerboard, and a near-imperceptible contoured heel. You'll appreciate the Flying V Prophecy's top-shelf appointments, which include Grover-locking Rotomatic tuners, a LockTone Tune-o-matic bridge, and a Graph Tech NuBone nut. Plus, eye-catching custom multi-ply binding and a sharp-looking aged gloss finish give the Flying V Prophecy an enviable look that's guaranteed to turn a few heads.
---
Multi-voice Fluence humbuckers provide three distinct voices
History's most sought-after electric guitar tones will be yours when you pick up the Flying V Prophecy, thanks to its multi-voice Fishman Fluence humbucking pickups. A simple push-pull of the guitar's volume and tone pots is all it takes to harness these active pickups' three unique, selectable voices. Revel in a warm PAF-like sound with vintage dynamics and output. Kick it into overdrive with a modern-sounding, high-octane humbucker tone. Unwind with hum-free single-coil textures, highlighted by punchy mids and glassy, shimmering highs. Whatever sound you're aiming for, the Flying V Prophecy will serve it up on a silver platter.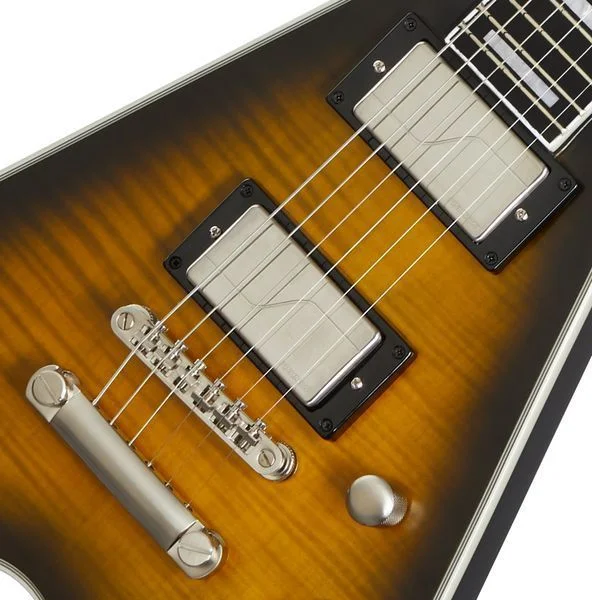 ---
Asymmetrical SlimTaper neck provides maximum comfort and speed
Playability is one of the most important elements of a solidbody electric guitar, and the Epiphone Flying V Prophecy doesn't disappoint. Its mahogany neck features an ergonomic asymmetrical SlimTaper shape that begs you to wrap your hand around it. Its 12-inch-radius ebony fingerboard sports 24 jumbo frets, and it feels like greased lightning. A contoured heel makes accessing this guitar's higher frets effortless. This endlessly playable axe has what it takes to become your new number one, both onstage and in the studio.

---
High-end appointments make this a head-turning Flying V
The guitarists here at Music Outlet appreciate the Flying V Prophecy's high-end appointments. Its Grover locking Rotomatic tuners supply stable tuning and facilitate quick string changes. Epiphone's LockTone Tune-o-matic bridge and stopbar tailpiece provide super-efficient vibration transfer for optimal tone and near-endless sustain. You also get a Graph Tech NuBone nut for added sustain and clarity. An attention-grabbing flame maple veneer top, eye-catching custom multi-ply binding, and a sharp-looking aged gloss finish complete the Flying V Prophecy.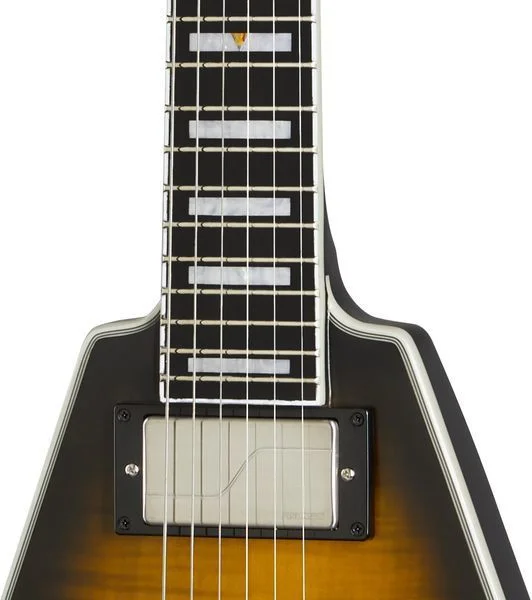 ---
Epiphone Flying V Prophecy Features:
Boasts a classic retro-futuristic design, along with cutting-edge electronics and modern playability
Resonant mahogany body with attention-grabbing flame maple veneer top
Multi-voice Fluence humbuckers provide vintage and modern humbucker tones, plus hum-free single-coil textures
Mega-comfortable mahogany neck with an ergonomic asymmetrical SlimTaper shape
12-inch-radius ebony fingerboard with 24 jumbo frets
Contoured heel makes accessing higher frets effortless
Grover locking Rotomatic tuners supply rock-solid tuning stability and lightning-fast string changes
LockTone Tune-o-matic bridge and stopbar tailpiece provide optimal tone and near-endless sustain
Graph Tech NuBone nut adds sustain and clarity
Eye-catching custom multi-ply binding and a sharp-looking aged gloss finish
---
Tech Specs
GENERAL
Number of Strings6
Left-/Right-handedRight-handed
BODY
Body TypeSolidbody
Body ShapeFlying V Prophecy
Body MaterialMahogany
Top MaterialAAA Flamed Maple veneer
Body FinishAged Gloss
ColorYellow Tiger
NECK
Neck MaterialMahogany
Neck ShapeAsymmmetrical Slim Taper
Neck JointSet Neck
Radius12"
Fingerboard MaterialEbony
Fingerboard InlayPearloid Blocks with Abalone Triangles
Number of Frets24, Jumbo
Scale Length24.724"
Nut Width1.692"
Nut MaterialGraph Tech NuBone XL Black
HARDWARE
Bridge/TailpieceEpiphone LockTone Tune-O-Matic Bridge with Stopbar Tailpiece
TunersGrover Locking Rotomatics
ELECTRONICS
Neck PickupFishman Fluence Proprietary Humbucker
Bridge PickupFishman Fluence Proprietary Humbucker
Controls2 x volume (push/pull coil-split), 2 x tone (push/pull vintage/modern)
Switching3-way toggle pickup switch
MISCELLANEOUS
StringsGibson, .010-.046
Case/Gig BagSold Separately
Manufacturer Part Number:EIVYYTABNH1
---
Reviews (0)
view all
back
What's in the box
1 x Epiphone Flying V Prophecy Electric Guitar